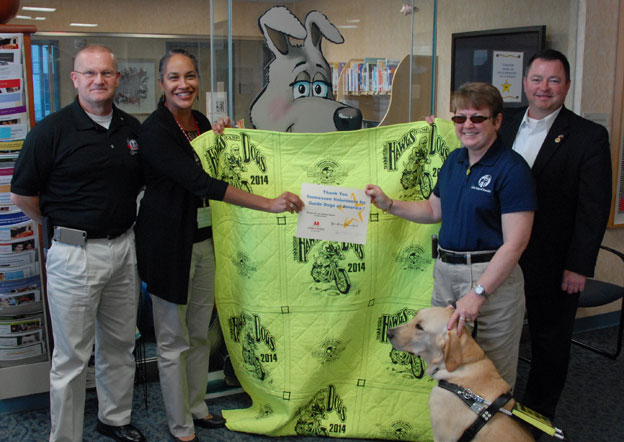 After helping to raise thousands of dollars in a series of raffles for Guide Dogs of America (GDA) a handmade quilt is donated to Children's Hospital at Vanderbilt in Nashville, TN. Pictured left to right, IAM Southern Territory GLR Tony Blevins, Vanderbilt Hospital Manager Adelaide Vienneau, Asia, GDA Volunteer Teresa Blevins, District 711 Business Representative Tim Wright.
Children's Hospital at Vanderbilt in Nashville, TN, is now the proud owner of a bright yellow quilt made by IAM members Angela Duren and Paula Skelton.
The quilt was originally raffled to raise money for the IAM's favorite charity, Guide Dogs of America (GDA), during the spring 2014 meeting of the Tennessee State Council of Machinists. The raffle raised more than ,000 for GDA.
When the initial lucky winner proposed re-auctioning the quilt to raise even more funds for GDA, bidding quickly got underway.
IAM Southern Territory Grand Lodge Representative Tony Blevins submitted the winning bid to become the second owner of the quilt. Blevins and his wife Teresa, who is the recipient of a Guide Dog and serves as an active volunteer for GDA, took possession of the quilt, but only long enough to donate it the Children's Hospital at Vanderbilt, one of the nation's preeminent pediatric hospitals.
"Visiting the Children's Hospital at Vanderbilt is an awesome and emotional experience, whether you're there as a patient, a parent or just someone who wants to help," said Blevins. "There's no better home for this quilt and we were honored to donate it on behalf of the IAM and Guide Dogs of America."
Source: Southern Territory