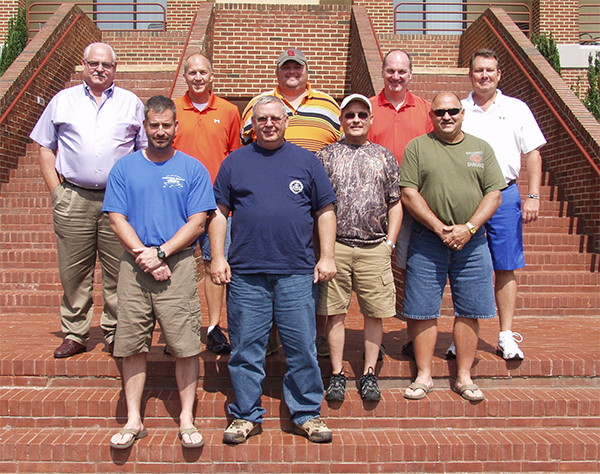 Front row, from left: Local 1720 member Rex Greenfield, Chief Steward Darren Moore, Steward Ron McGill and Recording Secretary Tim Knight. Back row, from left: District 154 Directing Business Representative Howard "Bubba" Dawes, Steward Chris Guthrie, Steward Chris Harrington, President Brad Parker and member Kerry Ruth.
Kentucky IAM Local 1720 Negotiating Committee members at Ashland Chemicals prepared for upcoming contract negotiations at the William W. Winpisinger (WWW) Education and Technology Center in Southern Maryland.
The committee, as part as WWW's popular Negotiation Preparation class, worked together to set ground rules and present proposals during a negotiation simulation with WWW Center Instructor Rhonda Rogers, who role-played as a company representative.
"We want to work on communicating better with our members," said Local 1720 President Brad Parker. "We learned a lot, but we have more work to do."
The committee also developed a strategic plan that will help them prepare and represent their members more effectively at the bargaining table.
"The committee worked hard this week," said District 154 Directing Business Representative Howard "Bubba" Dawes. "I am impressed with their willingness to work together for the benefit of the members."
Ashland purchased the former ISP Chemicals approximately two years ago. The current collective bargaining agreement expires January 8, 2015.
Source: Southern Territory