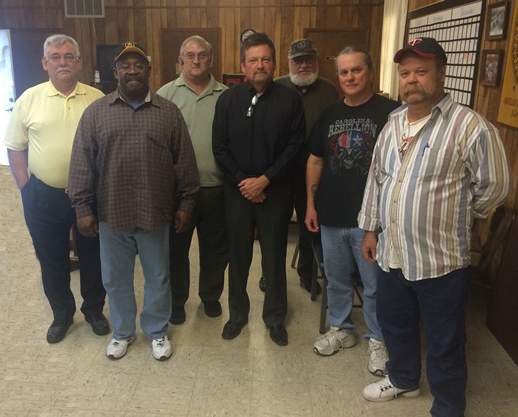 Members of the IAM Local 23 negotiating committee and IAM representatives, from left, District 112 DBR Steve Hernandez, Local Committeeman Calvin Perry, DL 112 Organizer Rick Harris, IAM Aerospace Coordinator Jody Bennett, DL 112 BR Tony Wilson, and Committeemen Carl Armstrong and Robert Rice.
The IAM's campaign to organize the South continues with a strong first contract for 201 helicopter mechanics and supply personnel employed by L-3 at Hunter Army Airfield in Savannah, GA.
The new members will become part of IAM Local 23 in Savannah, GA. The three-year deal includes the IAM Pension at per member per hour, raises of 3 percent the first year, 2.5 percent the second, and 3 percent the third year. The contract also lowers the percent of health care costs to the member, from a 70/30 percent split to a 80/20 percent split.
"It's another strong contract by the IAM," said IAM Southern Territory General Vice President Mark Blondin. "We were able to secure the IAM pension for the members, good raises and benefits. Many thanks to Aerospace Coordinator Jody Bennett for leading the negotiations, and congratulations to District 112 Directing Business Representative Steve Hernandez, Business Representative Tony Wilson and Organizer Rick Harris for their hard work."
Source: Southern Territory