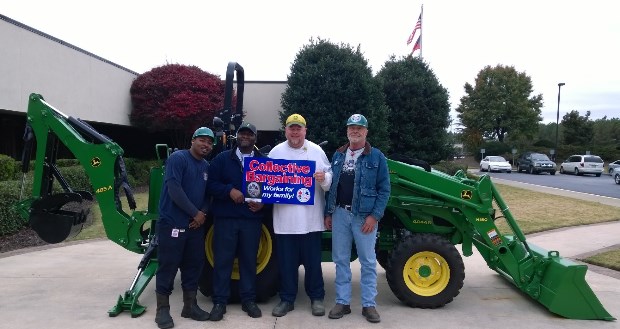 From left, IAM Local 2789 Negotiating Committee members Roseal Goss, Shop Steward; Richard Rountree, Vice President; Wes Rowe, Recording Secretary and James Holl, President.
IAM Local 2789 members at John Deere in Augusta, GA recently negotiated and ratified a contract that secures improved wages and benefits as the agricultural equipment manufacturer celebrates its one millionth tractor sale.
The new contract includes a 401(k) and college tuition pay-back increase, a signing bonus and excellent job bidding and seniority language.
"Thank you to District 131 Directing Business Representative and Lead Negotiator Bobby Barnwell, Local 2789 President James Holl and the entire Negotiating Team for their hard work on this contract," said IAM Southern Territory General Vice President Mark Blondin. "This is one of the best contracts I've ever seen. Some of our members will see 13 percent pay increases — this is how the IAM improves the lives of our members and the communities they live in."
Source: Southern Territory